Small Block Ford 205cc/60cc
00011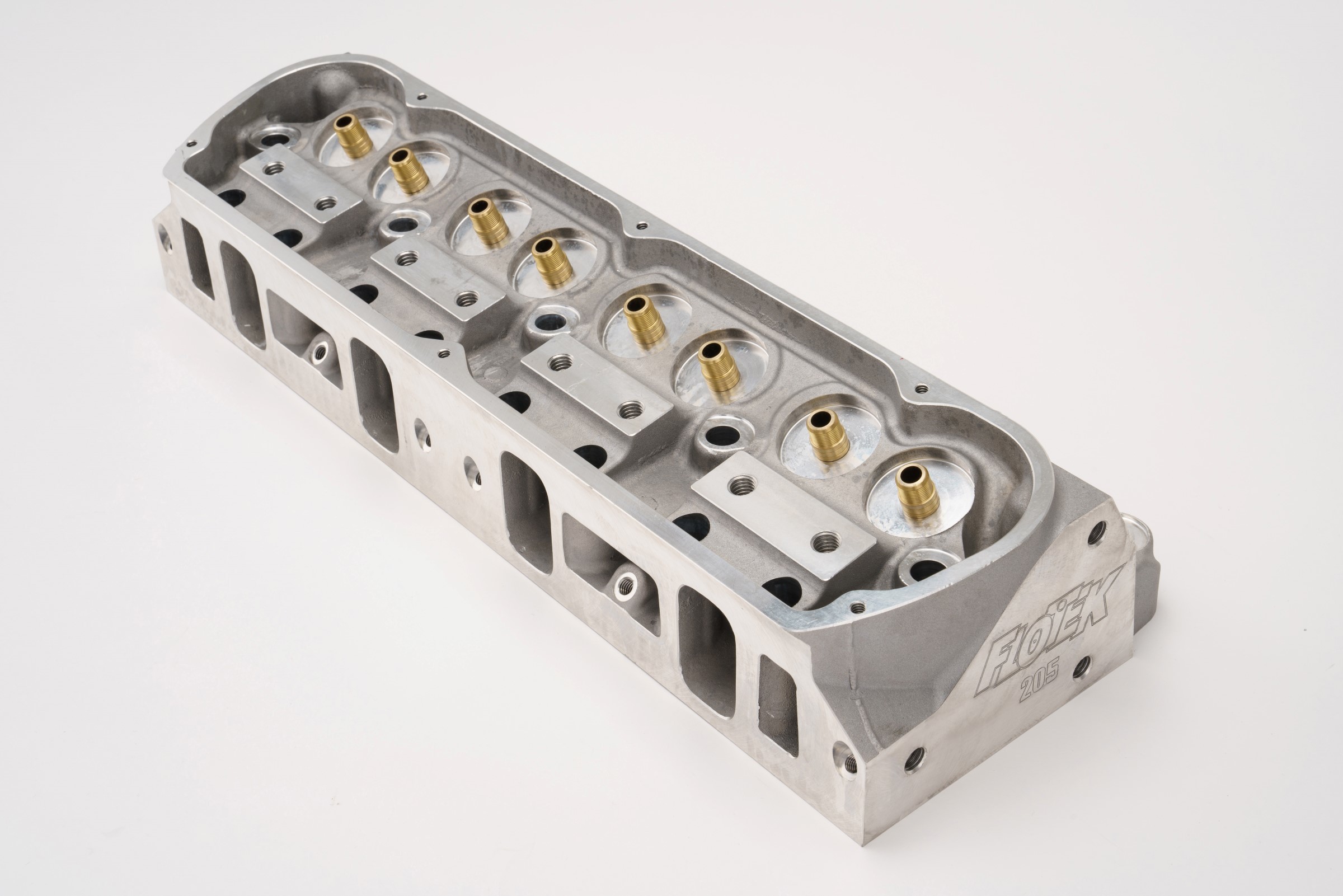 This item is not sold as a pair, this is a single cylinder head.

Please select a quantity of 2 on the following page to order a pair of cylinders
Here we go again! FLOTEK Performance Cylinder Head debuts the NEW~AS-CAST Small Block Ford Head for Fall of 2018. "The Hammer" 205 cc features as-cast ports and is designed for street or strip performance applications operating in 7200-7400 RPM range. FLOTEK'S "The Hammer" 205 cc head works great with high-revving Small Block Ford 289, 302 and 351w based engines providing race-level performance while maintaining full compatibility with OEM equipment. Featuring a 60 cc combustion chamber, 205 cc intake port volume, 70 cc exhaust port volume and featuring 8mm bead lock valves. "The Hammer" will let your engine BREATHE to make big time power on full throttle strokers! The exhaust port location is raised 0.125" to aid in water jacket design and allow for a full 0.750" fi re deck for those high compression, blown, or nitrous applications! FLOTEK Performance Cylinder Head offers "The Hammer" 205 cc for serious performance enthusiasts and racers. Let us just say…Hammer Down!
VALVE SPRINGS
HYDRAULIC ROLLER (Part# 2205-HR-505) – FTK1000 CL135# @ 1.80 OP 340# @ 1.23 C/BIND 1.050 O.D 1.29" Dual I.D. 0.68
SOLID ROLLER (Part# 2205-SR-505) – FTK2000 CL225# @ 1.95 OP 600# @ 1.250 C/BIND 1.15 O.D 1.55" Dual I.D. 0.80
FLOTEK RECOMMENDS MANTON PUSHRODS.
• Does not include Thermactor Plugs (EGR).
FLOTEK RECOMMENDATION: Trick Flow Small Block Ford TFS 51400265
PAC, MANLEY, COMP CAM SPRINGS & CUSTOM BUILDS ARE AVAILABLE UPON REQUEST.