Big Block Chevy 315cc/121cc
00001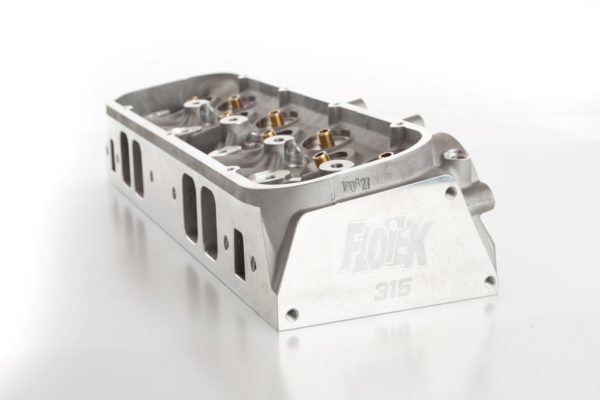 This item is not sold as a pair, this is a single cylinder head.

Please select a quantity of 2 on the following page to order a pair of cylinders
Introducing the ALL-NEW, Exceptional Steel Cast Big Block Chevy 315 cc head from FLOTEK! With a beautiful Polycrystalline Diamond Cut Finish, and cast from a permanent steel mold, this makes the FLOTEK Cylinder Head an easy choice! Unbeatable design, superb performance and exceptional pricing accomplish everything for the street or strip enthusiast!
A powerful, out-of-the-box cylinder head design matched with an outstanding, unbeatable casting technology. We are here to tell you… this BBC head does just that! FLOTEK Aluminum Cylinder Heads are a great choice for out of the box horse power. These FLOTEK Cylinder heads have thick Deck Design and High Capacity water jackets that makes them a reliable choice for street or strip applications.
The FLOTEK BBC 315 takes stock pistons and has raised valve cover rails. The BBC 315 Exhaust Port location is raised .360″.
VALVE SPRINGS:
HYDRAULIC ROLLER (Part# 315-6056) – PSK573-1-10 Up to .725 Lift CL 225# @ 1.90 OP 530# @ 1.28 C/BIND 1.18 O.D 1.55" Dual W/D I.D. 0.75
SOLID ROLLER (Part# 315-6058) – PSK623-1-10 Up to .750 Lift CL 290# @ 1.90 OP 625# @ 1.30 C/BIND 1.17 O.D 1.62" Dual W/D I.D. 0.74
SOLID ROLLER (Part# 315-5059) – PAC1224 Up to .850 Lift CL 275# @ 2.00 OP 810# @ 1.150 C/BIND 1.100 O.D 1.62" Dual I.D. 0.85
PAC, MANLEY, COMP CAM SPRINGS & CUSTOM BUILDS ARE AVAILABLE UPON REQUEST.
Headers will bolt on in most applications. Some may have interference.

Recommendations: Hooker Super Comp Headers

Stock Bolt Spread

May be necessary to use lowered motor mounts